Menstrual hygiene in Africa – a luxury problem with far-reaching consequences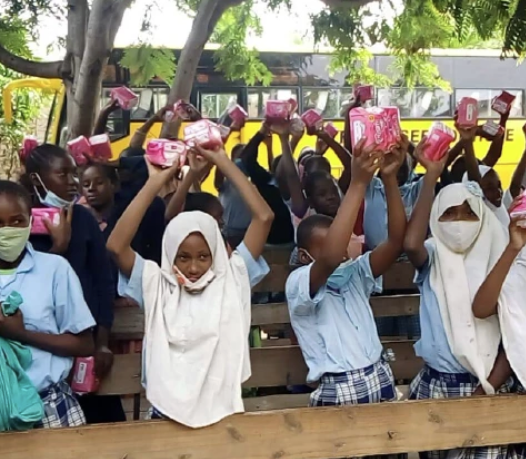 Together with her mother, Rhoda Fideler, founder of the German start-up MeritaCare, supplies girls in Mombasa with sanitary towels. The young entrepreneur is concerned with the health, dignity and social participation of African women.
An unbiased approach to the subject of menstruation as well as to articles of menstrual hygiene is nowadays an everyday matter of course in Germany and in large parts of the western industrialized nations. Historically, however, this is also an achievement in our country that has lasted just a few decades. Until the 1970s, for example, menstrual hygiene products were not allowed to be advertised on television.
Social fears and taboos, which we have now overcome, still prevail today, especially in poor countries. In addition, in large parts of Africa, for example, sanitary products such as sanitary napkins are completely unaffordable for the vast majority of women. Despite initial initiatives by individual African governments, a pack of sanitary napkins in Kenya, for example, costs around 80 shillings, the equivalent of about 70 cents. Considering the number of people in Africa who live far below the poverty line and often have to get by on less than 1.50 euros a day, up-to-date menstrual hygiene is hardly affordable.
The consequences of these conditions are manifold. Studies show, for example, that girls in Africa often do not attend school during their period and thus miss up to 20 percent of their schooling. Overall, the lack of suitable menstrual hygiene products has an additional negative impact on the social participation and thus the social position of girls and women. The use of alternative menstrual articles, mostly long-term, reusable makeshift solutions, not infrequently simple scraps of cloth, newspaper or even grass, also poses concrete health risks.
Rhoda Fideler knows both sides: Born in Kenya, the trained nurse has lived in Germany for 18 years and since 2018 has been running the start-up company MeritaCare, which installs vending machines for feminine hygiene products in toilets in public buildings and supplies them with the necessary products. The impetus for founding the company was also provided by memories of her own experiences of ignorance and shame in connection with her own first menstruation, in her native Africa. Even though today she is fighting with her company to anchor the topic of menstruation even more firmly in everyday life in Germany and to make it easier for girls and women to access hygiene products in everyday situations, she is aware of the far more drastic problems in Africa.
Together with her mother, Rhoda Fideler therefore launched a campaign a year ago to help improve the care situation for girls and women in Mombasa. Mombasa is Kenya's second largest city, with a population of around one million. Despite Mombasa's position as a major economic center, more than 150,000 people live in slums here, according to aid organizations.
"Many of the girls who live here have never seen a sanitary napkin," explains Rhoda Fideler. "But unfortunately, we also hear time and again about young women prostituting themselves to pay for menstrual hygiene or about men using sanitary napkins as a lure. Overall, the issue contributes to women's dependency, which manifests itself, for example, in the fact that one in four girls in Africa is married off underage today.
"Fideler's mother is a pastor at Amazing Grace Church, and her father is a retired school principal. Together, the two founded the Royal Seeds of Hope Academy, a school for slum children in Mtongwe, one of the poorest neighborhoods in the greater Mombasa area. With the support of her daughter, who now lives in Tettnang near Friedrichshafen on Lake Constance in Baden-Württemberg, Fideler's mother distributes sanitary napkins and soaps for intimate hygiene to 200 to 300 girls aged 12 to 15 every two months.
"The girls come from four different schools in the region as well as from the immediate neighborhood," reports Rhoda Fideler. "They are divided into three groups, so the widespread feeling of shame is also counteracted somewhat and the girls are more likely to dare to ask questions and speak freely.
"The girls are not only given sanitary pads and soaps – tampons are a fundamental taboo for African women for reasons of cultural and religious tradition – but are also taught how to use them, as well as about the body, hygiene and dignity in general, in order to create long-term awareness as well.
"For women in Germany, it is difficult to imagine how the issue is still dealt with in Africa today and what challenges and dangers girls face," explains Rhoda Fideler. "I am happy to be able to make a small contribution and hope that at some point hygiene articles will be as self-evident and, above all, affordable in Africa as they are as far as possible here in Germany."